CMP Management - Talent
Adam Lopez
Two-time Guinness World Record Holder for singing the highest vocal note by a male singer! 8 Octave range and sings in 5 different languages. What a star, what a find. Only one Adam Lopez comes along in one lifetime.
Apart from smashing World Records, Adam Lopez has worked solidly as a Session Vocalist in Recording Studios; Lead Singer in a number of Cover Bands, Vocal Coach as well as professional Backing Vocalist for a number of international artists such as Keith Urban, Mariah Carey and the list goes on… All of his jobs would often mount to 18hr days back to back but somehow was able to put in time for his other passion, Song Writing.
After the success of two self-releases for the initial intent of personal gratification, Lopez was contracted by ABC Music to release a fiery, Latin album in Australia and New Zealand. Today, his song-writing journey continues with his just released album "Kaleidoscope."
Adam Lopez has over 4,000,000 + You Tube fans. Adam is concert ready and the world is starting to notice the incredible talent of Adam Lopez.
Exclusive Management: Gavin Wood.
CMP Management Company (A division of Countdown Motion Pictures LLC.)
Contact: [email protected]
---
D Henry Fenton is a singer-songwriter from Sydney, Australia, who is now based in Los Angeles, California.
His latest album Turnin' was recorded with engineer/producer Steve Holroyd (Counting Crows/Tom Petty) and received positive US college radio airplay, with a few bigger stations (including KBAC, Santa Fe NM) adding the title track to their playlists. He attributes the fuel for Turnin' to a disillusioned marriage coupled with the struggles of living in Los Angeles. These tracks are the stuff of life, and Fenton capitalizes on this compelling interplay.
D Henry Fenton has opened for acts including John Mayer, Kasey Chambers, Colbie Caillat, Lissie and Morphine. His music blends Americana, folk, pop, and indie-rock, bringing to mind bands like Wilco, Neil Young, Crowded House and Tom Petty and The Heartbreakers.
It's an amazing feeling playing live anywhere no matter what size audience.
Exclusive Management: Gavin Wood.
CMP Management Company (A division of Countdown Motion Pictures LLC.)
Contact: [email protected]
---
Adam Howard
With a career that spans over 30 years, Adam Howard is regarded as an accomplished visual magician, supervising and creating groundbreaking visual effects, animation and design work for the motion picture and television industry in both the USA and Australia. Adam was a Senior Artist at George Lucas' acclaimed visual effects company Industrial Light & Magic where he contributed to 17 major motion pictures. Prior to working at ILM he won four Primetime Emmy Awards and received a total of 10 Emmy Award nominations for his work on all four of the Star Trek television series.
In addition to his film and television work, Adam was Senior Visual Effects Supervisor for the state-of-the-art ride experience Harry Potter and the Forbidden Journey at The Wizarding World of Harry Potter in Universal Studios, Orlando Florida.
Among his recent feature film and television projects Visual Effects Supervisor are Pee-wee's Big Holiday, Birdman and the Emmy Award-winning series Cosmos: A Spacetime Odyssey.
Adam is on the founding board of directors of the Visual Effects Society and is also a member of the Academy of Television Arts and Sciences and the Australian Academy of Cinema and Television Arts.
Exclusive Management: Gavin Wood.
CMP Management Company (A division of Countdown Motion Pictures LLC.)
Contact: [email protected]
---
Gavin Wood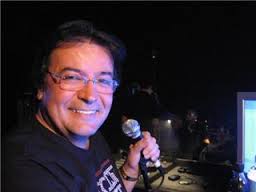 Gavin is a unique performer, he was one of the nice guys of Australian media and one of those rare presenters who can be relied upon to do it right the first time. He's built a career on live to air performance for radio and television broadcasts. Gavin is also one of the few versatile media performers who can provide presence, expertise and confidence backstage from the booth as well as on stage to an audience.
Television.
"Countdown" - ABC Voice and occasional host for 7 years.
"Hey, Hey it's Saturday" - 9 Network – Host "Pop Report" 5 years.
"Personality Squares" - 10 Network – Square and Audience warm up - 2 years.
"The Love Game" - 7 Network – Host.
"Nightlife" 10 Network - Segment Host - 4 years.
"The Price is Right" – Network 10 – Voice and audience warm up – 4 years.
"All Star Squares" – Network 7 – Square and Voice – 2 years.
"Children's Hospital Appeal Telethon" Network 7 – Host and panel member.
"Lotto Draw Host" – Network 7 – Powerball, Oz lotto and Saturday Lotto – 13 years.
Radio.
Gavin's media credits form a long list covering every television network and numerous AM and FM radio stations around Australia. His credit list is several pages long but in a nutshell his association with "Countdown" for 7 years, to over 3 million viewers each Sunday night lead to his number one morning drive show on EON FM.
He has hosted his own show on another 10 radio stations across Australia, provided the voice, audience warm-up and presentations for tonight shows, game shows and variety specials around the country. As well as a very successful On-Air performer in all formats and shifts, Gavin was also a Music Director.
Gavin was CEO of his own Media Company for 25 years prior to him relocating to Hollywood. Management of Artists, Radio and Television campaigns and launches.
Gavin is the President and CEO of Countdown Motion Pictures LLC.
Exclusive Management: Adam Howard.
CMP Management Company (A division of Countdown Motion Pictures LLC.) Contact: [email protected]